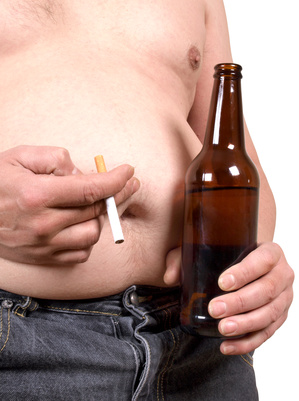 Research Report Details
Roughly 37.7% and 41.5% people got diagnosed with cancer in the UK and Scotland respectively. British Journal of Cancer made a report indicating that people who smoke cigarette regulalry were affected by cancer, and smoking is the primary reason for throat and lung cancer. In 2015, 17.7% and 12.4 % of all male and female cancer cases respectively (totals to 50,000 cancer cases) were reported to suffer from tobacco smoke associated cancers.
Obesity is another biggest reason for cancer. Obesity leads to 13 different kinds of cancer including breast, bowel, kidney, and uterus. A study has suggested that by maintaining a healthy lifestyle, preventing more than one case out of 20 is possible.
Emission of UV rays from the sun for longer period causes melanoma skin cancer is another common type. 13,600 cases of such cancer are accounted within one year, and that counts to four percent among all cancer cases.
Additionally, consuming alcohol in excess, poor food habits, exposure to gases, etc. are other reasons. Close to 11,900 people had cancer because of drinking alcohol, 11,700 due to lack of fiber intake, and 3600 lung cancer caused because of air pollution, which is near to 3.3% each and one percent of all cancer cases respectively.
According to the chief executive of UK's Cancer Research, Mr. Harpal Kumar, a healthy lifestyle minimizes the risk of having cancer but can't be spared. Every individual should prevent themselves from getting trapped in the web of lousy lifestyle such as smoke, drinks, eat unhealthy food, etc. and protect from their impacts. A person with a healthy and stable lifestyle choice can beat cancer.
An expert from UK's Cancer Research and Prevention, Professor Linda Bauld, reported that the declining rate of cancer cases related to smoking habit and the strategies for preventing people from smoking has worked. UK government should take practical steps towards junk pertaining promotional ads encouraging through TV channels to create awareness to people to fight Obesity.
A womb cancer case was reported by a woman named Carlisle who was diagnosed with cancer when she noticed blood drops after her menopause at 51. It was an earlier stage of cancer, so she got treated with surgery for removal of her cervix and womb. When she volunteered for further analysis of womb cancer, she was shocked to know that the reason for her tumor was only due to her obesity and sedentary lifestyle.
Janet took her cancer detection as a challenge and decided to fight. She was obese and had a considerable weight on her stomach. In 2015, she joined a local swimming club and changed her lifestyle by adopting a good and healthy diet plan and taking exercise habitually. Janet signed in a local slimming community, modified her food habit and began her exercise regimen. Her weight started dropping, and within two years everything was under control.
Conclusion
Researchers recommend every person to take small steps to change the lifestyle to combat cancer.
Reference
Brown et al. The fraction of cancer attributable to known risk factors in England, Wales, Scotland, Northern Ireland, and the UK overall in 2015. British Journal of Cancer, 2018 DOI: 10.1038/s41416-018-0029-6