Annals of Case Reports and Images. 2019;2(1):2
Abstract
Keywords
A 55-year-old postmenopausal lady presented with recurrent carcinoma of ovary. A computed tomography scan of the abdomen was performed after neoadjuvant chemotherapy, which showed retroaortic left renal vein and precaval right renal artery (Figure 1), along with the resolution of previous vaginal vault lesion. The intraoperative findings revealed a peritoneal carcinomatosis index of 3, according to an incidental deposit found on the vaginal vault infiltrating into the rectum. During retroperitoneal lymph node dissection, as a part of the procedures in cytoreduction, aberrant renal vessels were identified. A complete clearance was done safeguarding the vessels as seen in the intraoperative image (Figure 2).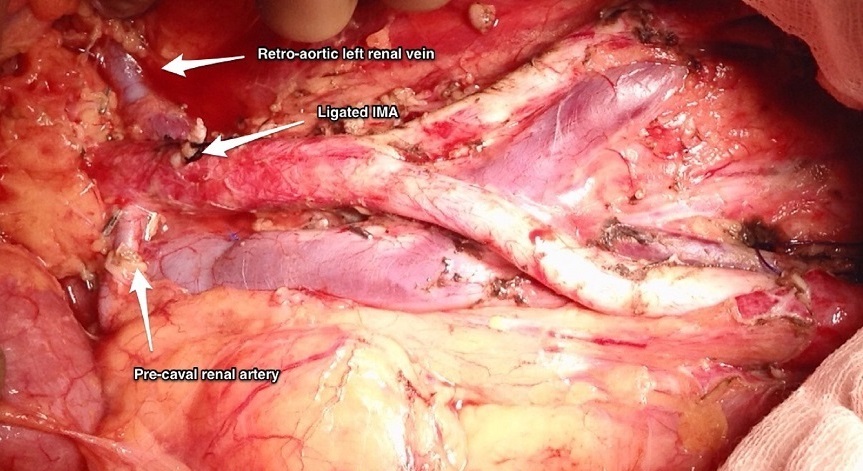 Editorial Information
Publication History
Received date: November 21, 2017
Accepted date: June 24, 2018
Published date: February 20, 2019
Funding
None
Conflict of Interest
None
Copyright
© 2019 The Author (s). This is an open-access article distributed under the terms of the Creative Commons Attribution 4.0 International License (CC-BY).
Shazia Waghoo, MS
Department of Surgical Oncology, Kohinoor Hospital, Mumbai, India
Praveen Kammar, MS, MCh
Department of Surgical Oncology, Kohinoor Hospital, Mumbai, India
Sanket Mehta, MS
Department of Surgical Oncology, Kohinoor Hospital, Mumbai, India
Correspondence: Sanket Mehta, MS
Department of Surgical Oncology, Kohinoor Hospital, Mumbai, India

Address: Kirol Road, Ali Yavar Jung, Kurla West, Off LBS Road, Mumbai, Maharashtra 400070, India