Preprint Archives of Clinical Images & Videos. 2017;1(1):4
Abstract
Keywords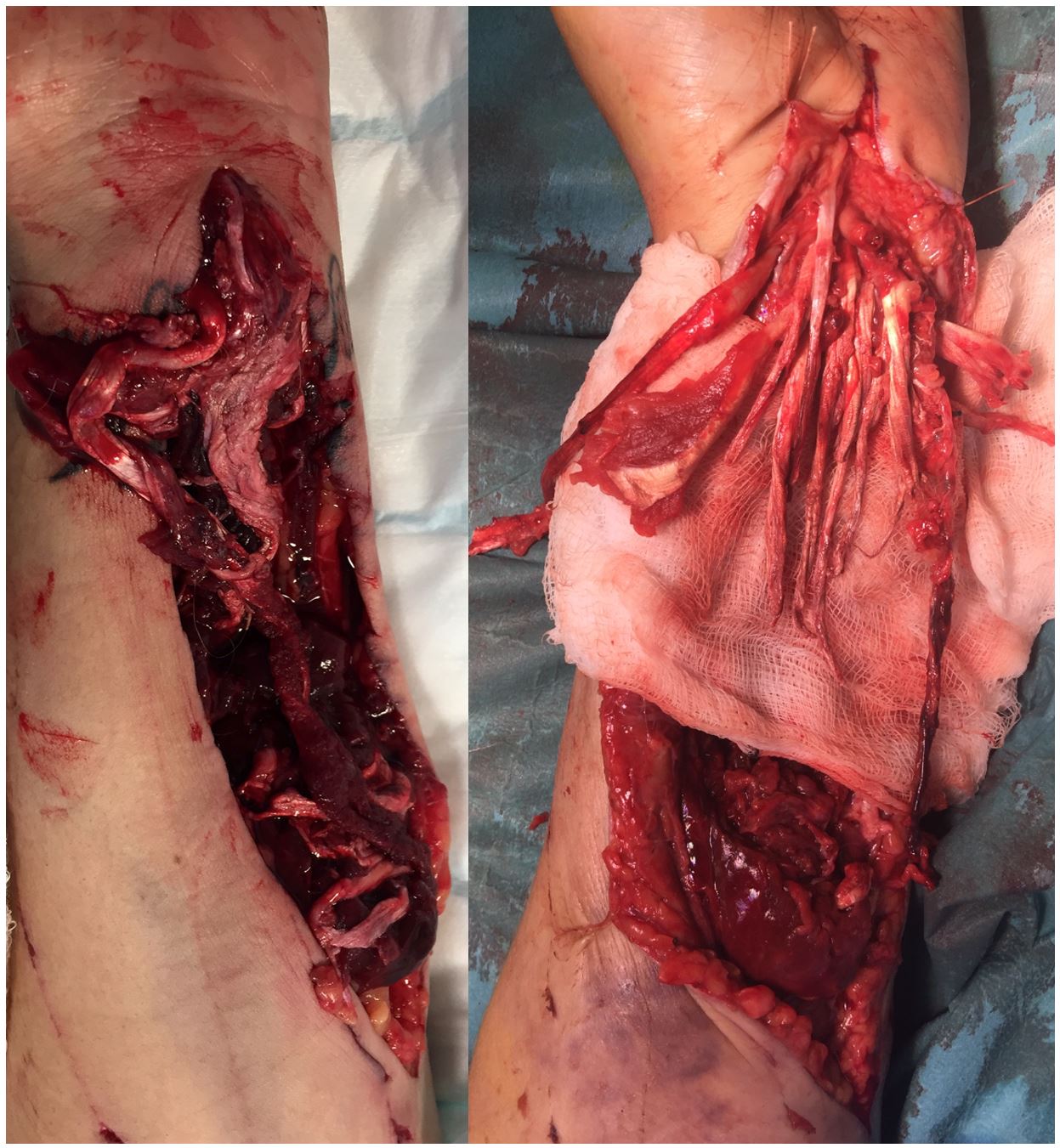 A rare case of 40-year-old female housewife presented to the emergency department with active bleeding and estimated blood loss up to 750mls, from a left large anterior mid-forearm wound measuring 18cm x 8cm and blood stained perioral area. Initial assessment described a calm and stable patient but confused about the incidence. She used a toenail clipper to lacerate her forearm, bitten and chewed most structures of the anterior forearm compartment, including tendons, arteries and nerve with hunger. Mental health assessment revealed depression secondary to child abuse with recent multiple episodes of psychotic depression (DSM-V) treated with Adjuvant Psychological Therapy (APT). Investigations showed TSH of 194.6mIU/L confirming the background of uncontrolled hypothyroidism, which is linked with severe depression. This case of autosarcophagy demonstrates the most severe self-cannibalistic physical abuse triggered by concurrence of psychotic depression and hypothyroidism induced personal crisis psychopathology without the use of psychoactive substances, which requires full reconstruction.
Editorial Information
Publication History
Received date: May 05, 2017
Accepted date: May 05, 2017
Published date: May 06, 2017
Copyright
© 2017 The Author(s). This is an open-access article distributed under the terms of the Creative Commons Attribution 4.0 International License (CC-BY).
Georgios Pafitanis, MD
Department of Plastic Surgery, The Royal London Hospital, Barts Health NHS Trust, London, UK
Gurjinderpal Singh Pahal, FRCS (Plast)
Department of Plastic Surgery, The Royal London Hospital, Barts Health NHS Trust, London, UK
Parviz Sadigh, FRCS (Plast)
Department of Plastic Surgery, The Royal London Hospital, Barts Health NHS Trust, London, UK
Correspondence: Georgios Pafitanis, MD
Department of Plastic Surgery, The Royal London Hospital, Barts Health NHS Trust, London, UK
Email: g.pafitanis@qmul.ac.uk