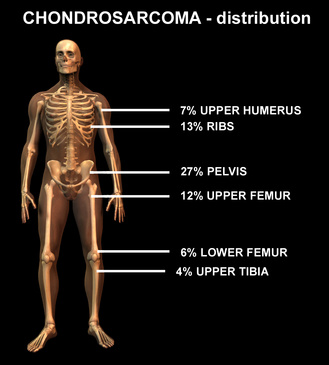 Juxtacortical Chondrosarcoma (JCS) is a malignant hyaline cartilage tumor that affects the surface of the bone. Generally, it occurs on the metaphysis or diaphysis of the femur and humerus, but is rarely found in the head and neck region. A team of researchers of Indiana University School of Medicine, led by Alexander Joseph Jones, conducted a systematic review on head and neck juxtacortical chondrosarcoma (HNJCS), which is a rare malignant disease entity in clinical practice.
The researchers conducted a methodological and exhaustive search of all HNJCS reports from May 1946 to February 2019 within PubMed, Medline, Embase, and Web of Science online databases, and after screening relevant titles and abstracts and assessing the resulting full-text articles, they included nine cases in their systematic review; eight of them were from the full-text articles and the ninth was a case study from their tertiary referral center.
After reporting the case of HNJCS in a 41-year-old male, the researchers systematically reviewed and analyzed the findings from the eight potential HNJCS case reports identified for this purpose. The systematic review was performed strictly following the Preferred Reporting Items for Systematic Reviews and Meta-Analyses (PRISMA) reporting standards.
The study identified a median age of 41 years for HNJCS with 66.7% male dominance. It was observed that the common symptom of HNJCS was a painless swelling over several months, with a median of 2.5 months.
Computed Tomography (CT) imaging showed hypodense lesions with peripheral enhancement and micro-calcifications. Magnetic resonance imaging (MRI) showed well-defined masses in the left mandible sigmoid notch, which appeared iso-intense on T1-weighted (T1W) imaging and diffusely hyperintense on T2-weighted (T2W) imaging.
Histopathology revealed septated lobules of malignant hyaline cartilage with a peripheral fibrous capsule. The tumors were of low grade or intermediate grade with an average diameter of 4.3 cm. Nodal or metastatic disease was not identified. Median follow-up was 1.5 years and there was no evidence of disease at final follow-up.
The study performed by Alexander Joseph Jones and team is the first systematic review of HNJCS documented in the literature. It involved an exhaustive and thorough review of a large number of published reports to identify the relevant articles. The major limitations of this systematic review are that the study articles are observational case reports and the sample size is too small to provide high-quality evidence. Moreover, the follow-up available for these malignancies are limited, thus restraining the evaluation of long-term disease-free survival. Also, being a rare disease entity, the authors could not propose prospective trial designs to explain the best management and follow-up schedules.
Conclusion
The incidence of HNJCS is extremely rare. Among a large database, the authors could identify only nine cases of HNJCS that have been amply described. It has been observed that irrespective of the location of the body, HNJCS has a consistent clinical and diagnostic profile. HNJCS is generally a low or intermediate grade malignancy with a low rate of recurrence and metastases. Primary surgical excision with negative margins was found to be the therapeutic modality of choice. Radiotherapy and chemotherapy have limited roles in the management of HNJCS.
Reference
Alexander Joseph Jones, Mohamedkazim Alwani, Don-John Summerlin, Michael W. Sim. Head and Neck Juxtacortical Chondrosarcoma: A Systematic Review. Archives of Otorhinolaryngology-Head & Neck Surgery 2019;3(1):4. [View Article]