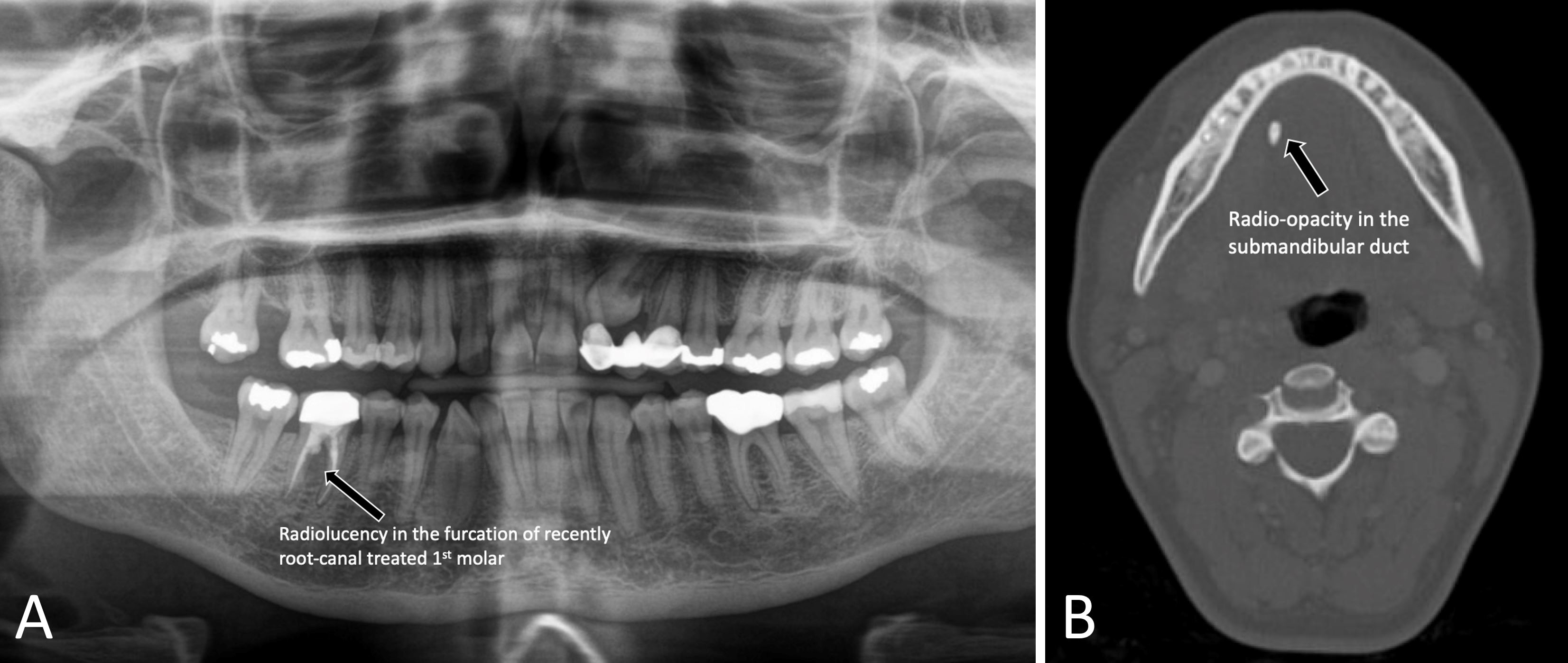 A 33-year-old female with an unremarkable medical history presented to the clinic with concerns about the acute onset of right-sided facial swelling accompanied by severe pain, dysphonia, and dysphagia. The patient reported a history of chronic pain associated with the lower right first molar. She had received a root canal treatment on the same tooth one month prior to presentation. On the night before her visit, she noticed facial swelling that rapidly progressed overnight and was accompanied by severe pain radiating to her right ear, which prompted her to seek medical evaluation. Furthermore, the patient noted new-onset difficulties swallowing solids and liquids, as well as speaking full sentences. Further evaluation and diagnostic imaging were ordered to investigate the cause of these symptoms.
The patient exhibited stable vital signs during examination. The presentation included facial swelling overlying the inferior border of the mandible, extending from the ramus anteriorly to the body of the mandible. On examination, the patient displayed a satisfactory level of mouth opening. Intra-oral examination revealed a raised floor of the mouth, which was tender upon palpation, along with fluctuation and induration. The patient's voice was strained and soft. Panoramic imaging showed a radiolucency associated with the previously treated tooth (Panel A), indicating an odontogenic abscess in the setting of failed root canal treatment. These clinical and radiographic findings prompted further evaluation and treatment, and the patient was referred to the emergency department for additional work-up and intravenous antibiotics.
At the emergency department, a flexible fiberoptic nasopharyngolaryngoscopy was performed at the bedside by an otolaryngologist. The examination revealed a patent airway without any notable findings. Subsequently, neck computed tomography imaging with contrast was carried out, which demonstrated radio-opacities along the right submandibular duct's course. Accompanying fat stranding was observed overlying the right mandible, without any indication of fluid collections (Panel B). Based on these results, sialolithiasis was deduced to be the most plausible diagnosis. Upon discharge, the patient was prescribed a course of antibiotics containing Amoxicillin-potassium clavulanate (Augmentin), sialagogues, and warm compresses. Following a two-week follow-up, the patient claimed near-total recovery after the passage of a salivary stone.
Upon initial evaluation, concerns were raised about a rapidly advancing odontogenic abscess that had the potential to invade the submandibular and neck spaces, posing a risk to the airway. Consequently, immediate or emergent care was deemed necessary, including incision and drainage, as well as odontectomy for source control. However, this case demonstrated that sialolithiasis may present in a similar fashion due to its proximity to adjacent structures. Therefore, the clinical presentation may resemble that of an odontogenic abscess. This case underscores the importance of keeping anatomic structures in mind when establishing a differential diagnosis. It also emphasizes the significance of avoiding tunnel vision when looking for the likely cause of clinical presentation.