Introduction
The tympanic membrane, commonly referred to as the eardrum, is a thin, cone-shaped membrane that separates the external ear from the middle ear. The tympanic membrane is composed of three tissue layers: the cutaneous layer (outmost), the fibrous layer (middle), and the mucosal layer (innermost) [1]. The tympanic membrane serves two primary functions: (1) protecting the middle ear from foreign bodies and infection; and (2) transmitting sound from the air to the ossicles within the middle ear.
Tympanic membrane retraction occurs when negative pressure within the middle ear causes the most pliant portions of the membrane to deflate [2]. This negative pressure may be induced by Eustachian tube dysfunction (hydrops ex-vacuo), repeated inflammation, dysfunction in epitympanic recess ventilation, habitual sniffing, or a mastoid of small volume [3-6]. The most common sites of retraction pockets are the pars flaccid and the postero-superior portions of the tympanic membrane [7].
Retraction pockets with clear and clean bottoms are generally regarded as "safe" or "stable". However, in this report, we present a case of a tympanic retraction pocket that could cause clinicians to miss or delay diagnosis of retraction-associated complications.
Case Report
A 41-year-old man presented with aural fullness on the left side, which had persisted for several years. The patient did not report hearing loss, otorrhea, earache, tinnitus, or vertigo, and had undergone regular otologic examinations (performed by a general practitioner using a pneumatic otoscope) over a period of several years. The tympanic membrane displayed a retraction pocket; however, there were no obvious signs of progression during years of follow-up. Nonetheless, following an increase in the intensity of symptoms, the patient was referred to the Department of Otolaryngology-Head and Neck Surgery at Taipei Veterans General Hospital for further investigation and management.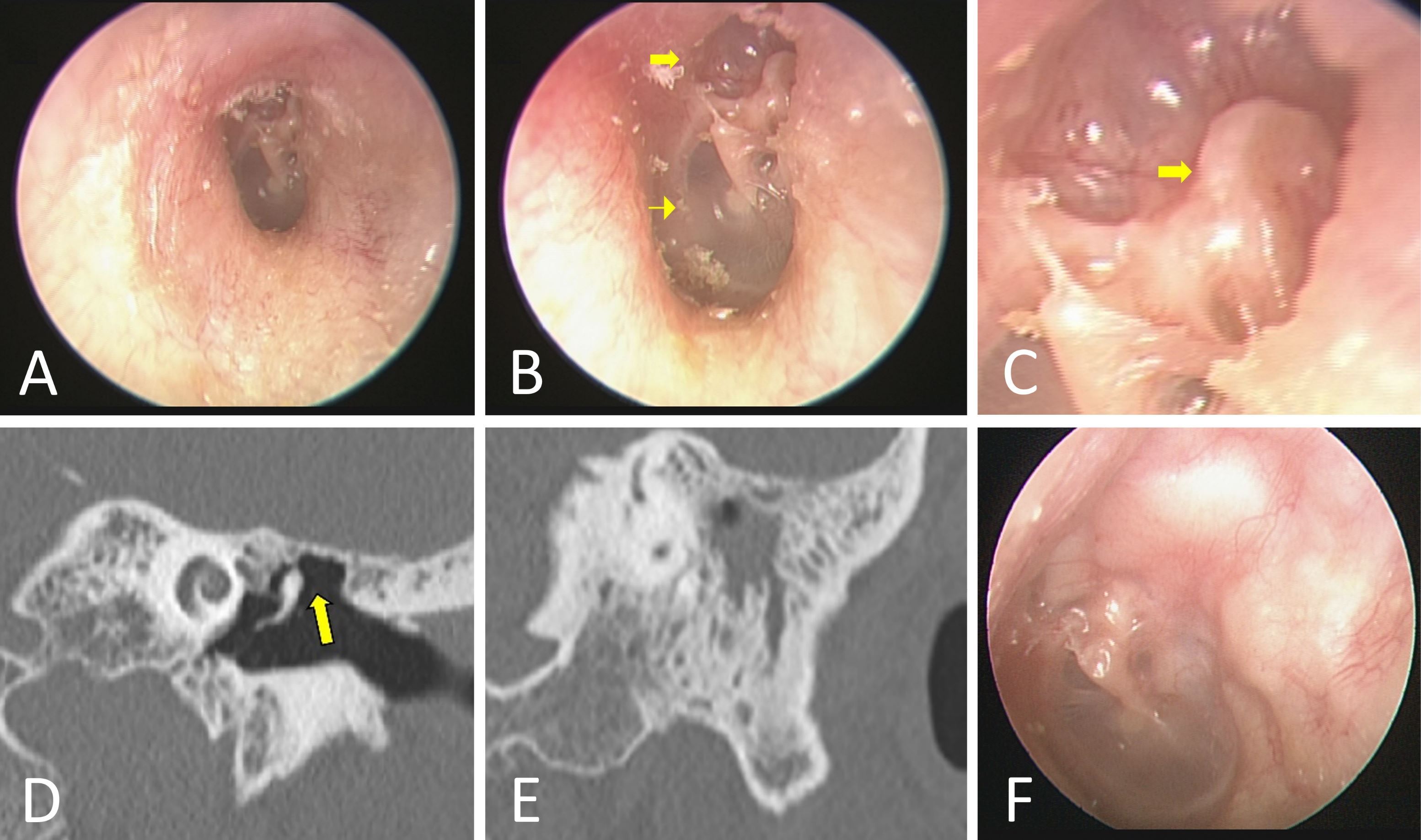 At our hospital, an otoscopic examination of the left ear (Figure 1A) revealed a deep retraction pocket of the par flaccida with severe erosion of the scutum (arrow in Figure 1B). The bottom of the pocket was clear and clean, i.e., no signs of infection or the accumulation of debris; however, the malleus head was exposed and wrapped by the par flaccida (arrow in Figure 1C). A pneumatic otoscopy demonstrated that the mobility of the pars tensa (arrowhead in Figure 1B) was normal; and a hearing test showed that bilateral hearing was also normal. A tympanometric examination revealed bilateral normal middle ear status; and a sinoscopy showed bilateral chronic hypertrophic rhinitis with no evidence of Eustachian tube obstruction. The high-resolution computed tomography (HRCT) images of the left temporal bone revealed extensive erosion of the scutum (arrow in Figure 1D) and a soft tissue mass in the mastoid (Figure 1E), which was found to be a cholesteatoma following surgical exploration (Video 1). The presence of a cholesteatoma in the mastoid was later confirmed by histopathology. The patient exhibited no postoperative complications. During a five-year follow-up, no recurrences were observed in either the otoscopic exam (Figure 1F), the computed tomography, or the diffusion-weighted magnetic resonance imaging.
Discussion
Safe or Unsafe
The issue of whether retraction pockets of the tympanic membrane are safe or unsafe remains an open question. Retraction pockets that are relatively stable are generally considered "safe", particularly if the bottom of the retraction pocket is clearly visible and does not show signs of infection or the accumulation of debris. Even after remaining undetected in a non-aggressive stable state for many years, retraction pockets may not present dangerous manifests.
In contrast, an unsafe or unstable retraction pocket may progressively drape around the ossicles, leading to bony necrosis and subsequent conductive hearing loss. Additionally, an unstable retraction pocket may deepen as desquamated keratin accumulates. The subsequent formation of a cholesteatoma may obstruct the opening of the pocket, thereby inducing ingrowth expansion into the middle ear cleft [8]. Undiscovered or untreated cholesteatomas may grow dangerously large and/or invade intratemporal structures, which can lead to intra- and extra-cranial complications [8-12].
In this case report, a retraction pocket that would normally have been regarded as "safe" was shown to be unsafe. The fact that the retraction pocket was clean and had a bottom area that was clearly visible led a non-competent ear specialist to falsely conclude that the retraction pocket was safe. The delay in diagnosing cholesteatoma for several years could have resulted in serious complications [9-13]. This case report has straightforward clinical implications. To begin with, the potentially dangerous complications associated with tympanic retraction pockets warrant clinical attention, even when symptoms appear to be mild. Early detection makes it possible to implement non-surgical measures or surgical measures that are less invasive than conventional treatments, which can reduce the risk of hearing-related complications, particularly in children [14,15]. Second, pneumatic otoscopy does not always reveal the first presentation of a tympanic retraction pocket, particularly when the examination is performed on an uncooperative infant or child. These diagnostic difficulties warrant a referral for a detailed otolaryngologic examination. Importantly, a computed tomography scan of the temporal bone should be considered for all patients suffering from tympanic membrane retraction, particularly those presenting otologic symptoms.
Surgery or Alternative Treatment Method
One important question is whether early surgical intervention is necessary in the treatment of a tympanic retraction pocket. There is no doubt that tympanoplasty (with or without mastoidectomy) is required for advanced cases with complications. Nonetheless, there is currently no consensus amongst otologists regarding the optimal management strategy for tympanic membrane retractions [16]. There are several reasons for this. First, the course of tympanic membrane retraction is unpredictable, and it has yet to be determined how long the status of a retraction pocket should be monitored. Long follow-up periods can be inconvenient, particularly for patients who do not live near an otolaryngologic clinic [15]. These points justify preventive early-stage surgical treatment. Surgical options include ventilation tube insertion and tympanoplasty with or without mastoidectomy [16]. The goal of surgery is to prevent or reduce structural damage while preserving unaffected middle ear structures; however, the choice of surgical technique tends to be guided by the preferences and experience of the surgeon.
Early surgical intervention, however, poses three levels of decision-making challenges. First, tympanic membrane retractions may be asymptomatic (i.e., hearing may be unaffected), as with the patient in this case report. Surgical intervention can damage the ossicles, which can lead to impaired hearing or even deafness. It can therefore be challenging to convince patients that surgery is necessary and/or worthwhile given the potential postoperative consequences. Conversely, no surgical procedure can guarantee the restoration of normal hearing in patients who present hearing loss associated with tympanic retraction. Third, a recent Cochrane review of high-quality but limited evidence (only two randomized controlled trials were available) could not conclusively support or refute the role of surgery in the management of tympanic membrane retraction [16].
Alternatively, a conservative watch-and-wait approach coupled with medical therapies aimed at preventing Eustachian tube dysfunction (such as decongestant nasal sprays, oral antihistamines and steroids, blowing up balloons, or inflation devices) may be adopted as a treatment strategy for tympanic membrane retraction pockets [16]. However, if patients choose early surgical intervention, surgeons should make them aware of the surgical expectations and outline all of the factors that could lead to complications. Regardless of the treatment plan, informed consent is essential for patients to ensure they understand what is involved during and after treatment.
Conclusions
It can be challenging to differentiate between safe and unsafe tympanic retraction pockets in clinical practice. In the current case report, a retraction pocket that had originally been deemed "safe" was in fact revealed to be unsafe. Clinicians need to be aware that a cholesteatoma could be hidden behind a tympanic retraction pocket. A temporal bone computed tomography scan should be considered for all patients who present with a retracted tympanic membrane, even in cases where otologic symptoms are absent. Nonetheless, given the inherent complexity and unpredictability of disease progression, further research is required to determine the optimal strategy for managing tympanic retraction pockets.
References